Activities in Torbole sul Garda
MOUNTAIN BIKE

The Trentino area of Lake Garda has now become for a lot of people one of the best places to go mountain biking. Every year we host a number of important events. One of the biggest is the Bike festival: this particular event is always held around the start of May and includes a Marathon Rocky Mountain Bike, a number of exhibitions and a large display given by the producers of MTB.


Book a bicycle online

WATER SPORT

Who doesn't know the always punctual winds of Lake Garda? The morning Pelér and the afternoon Ora allow everybody to practice all levels of water sport at any time during the summer season. You have many possibilities when it comes to water sports on Lake Garda: Windsurf, sailing, catamaran, kite or dinghy rental and also the chance to take lessons or join a course.
EXCURSIONS

We have an endless amount of possibilities when it comes to excursions, you can go walking or by bicycle on trails, biking trails and dirt roads through the local countryside and enjoy views that will take your breath away. It is possible to take part in a number of courses and excursions in canyoning, via ferrate, and climbing and mountaineering for every capability.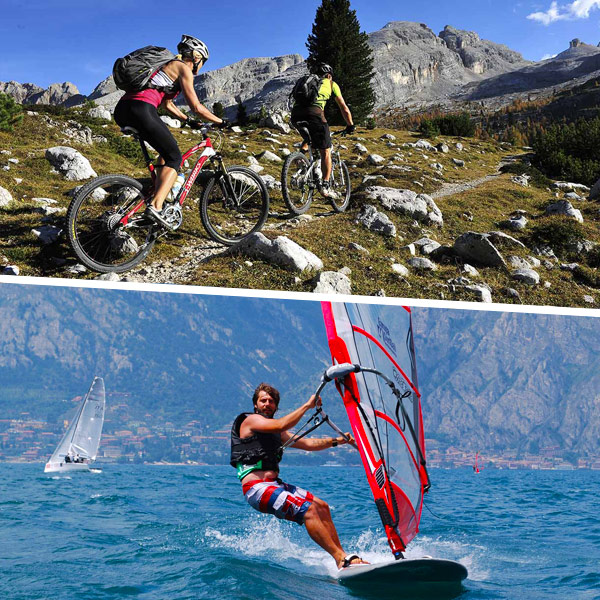 Winter in Torbole?
Torbole is a very attractive town in terms of nature and historical importance; it can also offer breathtaking views, caves and waterfalls in the immediate vicinity. You can keep our hotel as a reference point as you visit churches and castles filled with art, you can appreciate something more modern at the Mart museum in Rovereto, the war museum or the Muse of Trento. You can take a walk down the old alleys of the medieval towns on the lake side or even up in the mountains such as: Canale, Tenno, Rango, Riva del Garda, Arco, Limone e Malcesine. So we do not offer only sport, but art and culture as well.
We are also close to the congress centre of Riva del Garda which makes us a perfect choice for people here on buisness that wish to allow themselves a relaxing and reinvigorating holiday.
At Christmas time there are many local Christmas markets to visit such as: Arco, Riva del Garda, Rovereto e Trento. And for children there is also Santa's house and the Elf Accademy.